Two free health camps have been arranged by the Sarwar Foundation in Badami Bagh Lahore. Water borne diseases have become common as families can't afford basic medicine. Over 700 patients were treated at the camps.

Vice Chair Perveen Sarwar said: "It's unbelievable that in the 21st century, women and children still suffer from water borne diseases.
"Healthcare has never been a priority and it's always the poorest who suffer. These are the forgotten people, who struggle every day with poor living conditions, lack of education and healthcare.
"Children as young as four have diabetes and are suffering from water borne diseases. These people have been neglected for decades."
The Sarwar Foundation's top objective is to provide healthcare facilities to marginalised people in society.

At the free health camp in Badami bagh Lahore for mothers and children, Mrs Sarwar was accompanied by her daughter and granddaughters, Faiza Sarwar, Ayesha and Maryam.
The camp was overflowing with patients experiencing a wide range of illnesses. Hundreds were prescribed and provided with quality medication. Drugs were provided for intestinal worms, malnutrition in children and elderly residents, and mouth ulcers and scabies. We want to thank our medical teams who volunteered. We'd like to help more patients, and we rely on donations to make this happen. Please consider making a small donation if you can.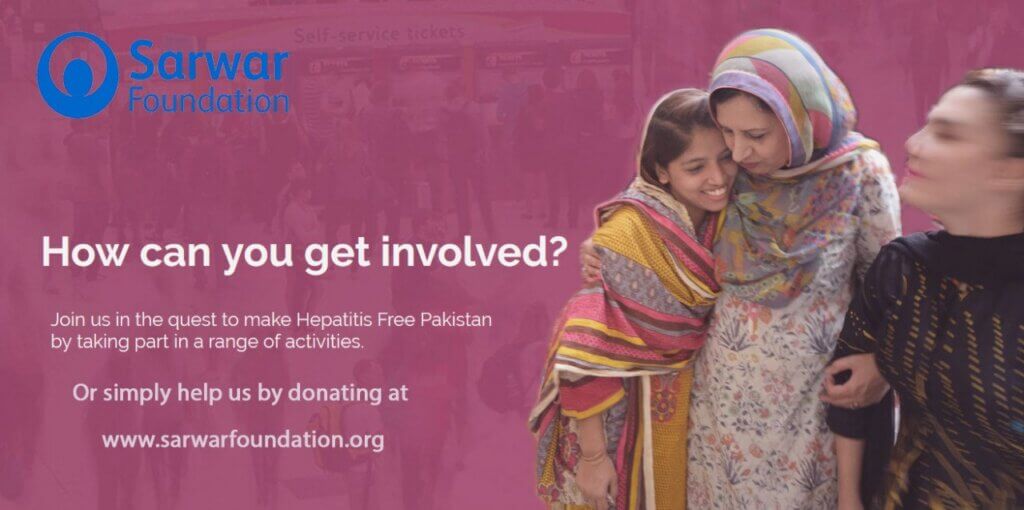 The hepatitis virus is increasingly recognised as a major health problem, and is found frequently in Pakistani settings. The cost of screening and the treatment for low salary families is equivalent to monthly salaries.
The Sarwar Foundation understands the financial pressures facing too many people in Pakistan who need vital healthcare. That's why we provide free hepatitis screening to thousands of patients. A total of 15,000 patients have been screened positive for the infection, and the Foundation ensures they receive free medicine.