By Perveen Sarwar
Our mission is to save lives by providing access to quality healthcare and clean drinking water, and tackle poverty by educating children, empowering women, and helping those in need in Pakistan, the UK and across the world.
Throughout the Covid-19 pandemic, the Sarwar Foundation has continued to provide essential support to those most in need throughout Pakistan and the UK.
In a recent interview with Zeeshan Zia Raja, Founder of 101 Incredible Women CEOs of Pakistan, I discussed the lifesaving work of the foundation over the last year, and how proud and humbled I am of the efforts of the foundation, its organisation partners, and the people who came together to provide support where it was needed most.

At the start of the pandemic, the Sarwar Foundation and our organisation partners within the Punjab Development Network (PND) worked together to provide support to communities across Pakistan with essential food packs, sanitisation, PPE and medical supplies.
We divided up the different regional areas, and were each given specific areas to work in to ensure that we could together support as many people as possible, and to make sure nobody went hungry or was without essential medical supplies during the lockdown and pandemic.
We received hundreds of donations and we had truckloads of food donated, which allowed us to provide essential food packs of items.
We also received donations of essential PPE that we were then able to quickly pass on to our doctors in our hospitals in Rajana, Toba Tek Singh, and in Chichawatni, Sahiwal.
We reached out to our four district prisons around Punjab and provided them with essential sanitary items including bathing and laundry soaps, sanitizers, and face masks for 46,000 inmates.
We continued to work with our schools to ensure our teachers were able to continue teaching our students online.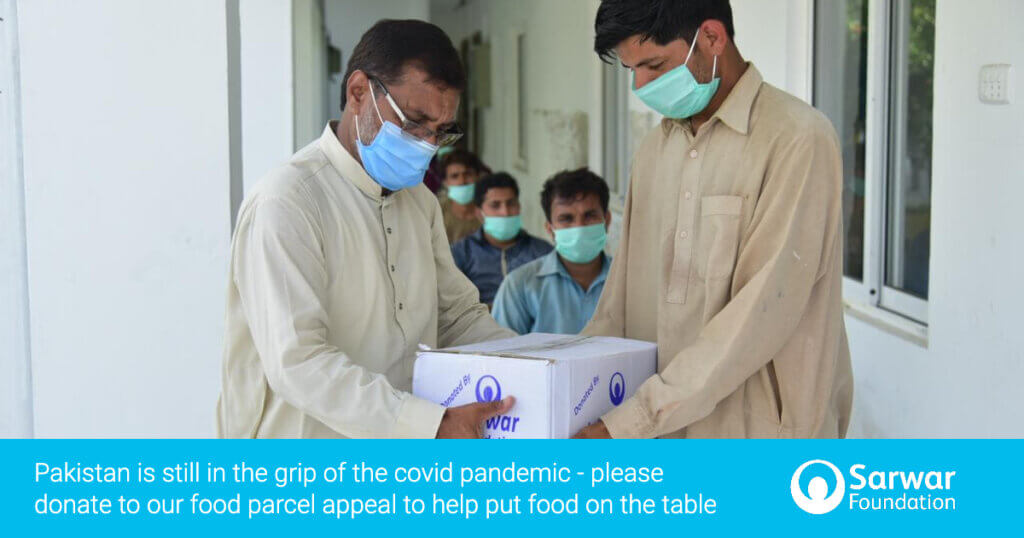 Throughout the pandemic, the Sarwar Foundation donated 70,000 food packs, and helped support around 2 million people in Pakistan.
In October, I was honoured and humbled to be awarded a Pride of Pakistan Award for leadership and my work with the foundation. I dedicate the award to all the donors, the volunteers, the doctors and my family, as without their support this huge effort would not have been possible.
I would also like to take this opportunity to thank every volunteer, every donor, and every single person who worked with us to support our people and communities. This award is for everyone who served humanity during this difficult time.
Thank you.
If you would like to donate to our lifesaving work, please click here.