On the 4th January 2020, the Sarwar Foundation's Rai Ali Nawaz Hospital in Chichawatni celebrated its 11th anniversary.
Hospital patients and staff came together to mark over a decade of health service delivery to the local community which has now supported over 1million patients.
The Hospital treats over 350 outpatients every single day as well as providing surgical, obstetrics, gynaecology, eye, orthopaedic, neurologist, cardiologist and physiotherapy services.
In addition to medical services, the hospital has also hosted free eye health care camps and has supported local sports events to promote healthy living.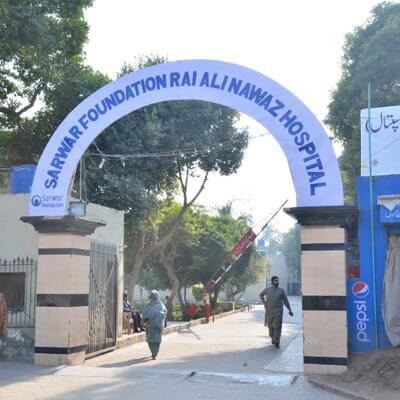 Over the last decade the Sarwar Foundation's Rai Ali Nawaz Hospital in Chichawatni has provided a range of integrated healthcare delivery projects and has been at the forefront in offering high quality, affordable healthcare to all sections of the society.
Figures issued by the Hospital show that around 1million patients have now received treatment since opening in 2009, which has included the safe delivery of more than 8,529 babies and over 10,000 successful surgical procedures.
The figures highlight the hard work and dedication of doctors and hospital staff over the years, all working to improve healthcare in the region.
Help us continue our work and support the hospital by making a donation today.