We have filmed a new documentary to showcase the work we do to empower women in Pakistan.
Women in Pakistan make up only 20% of the country's workforce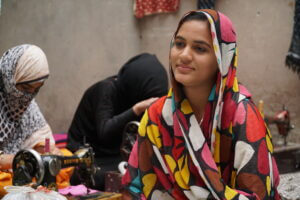 Training women specific skill sets has the potential to transform their future.
The Sarwar Foundation has launched more than 150 Hunargah skills training centres for women across the Punjab. These centres have trained more than 5,500 women who are now able to earn their own livelihood.
Watch the six-minute documentary:
All Hunargahs are equipped with the latest machines. These centres offer dress design and sewing classes, beautician courses, computer training, jewellery and handicraft courses. Some also offer tutoring to children of the students enrolled at Hunargah centres.
Many women from Hunargah centres have gone on to start successful businesses or have found suitable employment to support their families and make their lives better. Hunargah centres are also being setup in all-women prisons across Pakistan and special centres are being setup for intersex, minorities and orphans.